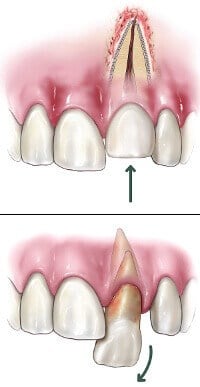 Injuries to the mouth can cause teeth to be pushed back into their sockets. Dr. Rafla, your general dentist may reposition and stabilize your tooth. Root canal treatment is usually started within a few weeks of the injury and medication, such as calcium hydroxide, will be placed inside the tooth. Eventually, a permanent root canal filling will be implanted.
Sometimes a tooth may be pushed partially out of the socket. Again, your endodontist or general dentist may reposition and stabilize your tooth. If the pulp remains healthy, then no other treatment is necessary. Yet, if the pulp becomes damaged or infected, root canal treatment will be required. If left untreated, many different complications can arise. These complications can include but are not limited to: Infection of the tooth, root system or surrounding tissue, inadequate hygiene due to an inability to properly clean the dislodged tooth and the gums, and loss of the tooth.
Reviews
"I've been there twice and I love this office. The girls there make a tough procedure painless, almost enjoyable. Dr. Yasmin Basseghi was knowledgeable, gentle and caring. If the need arises I will go back there."
- W.C. /
Google /
Feb 18, 2020
"Very friendly staff great service great place for getting a root canal"
- M.S. /
Google /
Jan 25, 2020
"Had the unfortunate experience of developing an abscess in a tooth that was recently crowned. I happened to be traveling abroad at the time. The team at Endodontic Associates welcomed me upon my urgent return on a 16 hour plane flight, immediately began work to provide much needed relief from an infection that had developed. They finished the root canal a few days later once things settled down. Top-notch care from a compassionate and knowledgeable team. Extremely grateful and appreciative of Endodontic Associates professional care."
- M.D. /
Google /
Oct 18, 2019
"Dr Yasmine Basseghi was great. Very knowledgeable and provided me with a pain free root canal. I was experiencing a lot of pain before the procedure and she immediately took me in on an emergency call and took care of my tooth. The entire staff was awesome. 10/10 highly recommended for a pain free root canal. Thank you for everything Dr Yasmine Basseghi and staff."
- J.M. /
Google /
Oct 12, 2019
"A big thank you to all at Endodontic Associates. You responded to my request for a check up within 2 hours. I had an appointment 2 days later. My definitely best dental experience ever!! Speaking as a reluctant dental patient, I appreciate the calm ,relaxing surroundings and your professional approach. I will recommend you to friends."
- J.O. /
Google /
Sep 30, 2019
Previous
Next
If an injury causes a tooth to be completely knocked out of your mouth, it is important that you are treated immediately! If this happens to you, keep the tooth moist. If possible, put it back into the socket. A tooth can be saved if it remains moist. You can even put the tooth in milk or a glass of water (add a pinch of salt.) Dr. Rafla may start root canal treatment based upon the stage of root development. The length of time the tooth was out of your mouth and the way the tooth was stored, may influence the type of treatment you receive.
Tooth Injuries in Children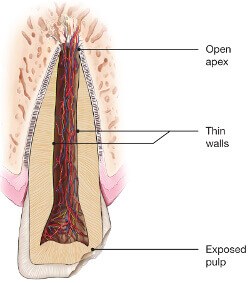 An injured immature tooth may need one of the following procedures to improve the chances of saving the tooth:
Apexogenesis
This procedure encourages the root to continue development as the pulp is healed. Soft tissue is covered with medication to encourage growth. The tip of the root (apex) will continue to close as the child gets older. In turn, the walls of the root canal will thicken. If the pulp heals, no additional treatment will be necessary. The more mature the root becomes, the better the chance to save the tooth.
Apexification
In this case, the unhealthy pulp is removed. The doctors place medication into the root to help a hard tissue form near the root tip. This hardened tissue provides a barrier for the root canal filling. At this point, the root canal walls will not continue to develop, making the tooth susceptible to fractures. So it is important to have the tooth properly restored by your dentist.