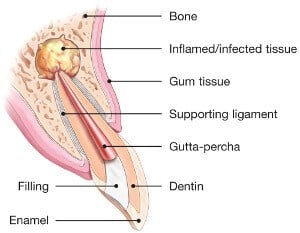 Generally, a root canal is all that is needed to save teeth with injured pulp from extraction. Occasionally, this non-surgical procedure will not be sufficient to heal the tooth and Dr. Rafla will recommend surgery. Endodontic surgery can be used to locate fractures or hidden canals that do not appear on x-rays but still manifest pain in the tooth. Damaged root surfaces or the surrounding bone may also be treated with this procedure. The most common surgery used to save damaged teeth is an apicoectomy or root-end resection.
Reviews
"Dr. Basseghi performed a root canal I needed. She is professional and highly skilled. She explains the procedure and shows you the X-ray so you have a clear understanding. My root canal was painless, I highly recommend Dr. Basseghi. The entire staff is a pleasure to work with."
- J.J. /
Google /
Aug 03, 2023
"Dr. BASSEGHI is the sweetest doctor. She has fantastic bedside manner. She is knowledgeable and also understands people have busy schedules and works with you to accommodate as best she can. I will ALWAYS go to Dr. Basseghi for any of the specialty needs. Thank you so much for making me feel comfortable 100% of the time while I was there!"
- J.D. /
Google /
Jun 21, 2023
"I called for an emergency root canal. I love out of state and they got me in the next day and then called me back with a cancel to see if I wanted to come in sooner. From the time I walked in the door I was greeted and treated so nice. The staff are very friendly and helpful. Dr Yasmine Basseghi was so sweet and checked on me throughout my procedure making certain I was comfortable. All the staff are nice and friendly. I highly recommend this office!"
- B.E. /
Yelp /
May 10, 2023
"I highly recommend Endodontic Associates. Even before I walked in the door Dr Yasmin Basseghi said hello to me. I didn't know she was the doctor who would be doing my root canal but it put me at ease. All the staff are great! Dr Yasmin Basseghi is an excellent Dr. I have had a lot of dental work done and I could tell she is one of the best. No pain during or after my root canal."
- R.M. /
Google /
Dec 08, 2022
"Fantastic experience here! No pain during my procedure. Respectful, skilled, and informative staff. Great attitudes and a clean and calm facility. Very pleased 🙂"
- Q.K. /
Google /
May 04, 2022
Previous
Next
An incision is made in the gum tissue to expose the bone and surrounding inflamed tissue. The damaged tissue is removed along with the end of the root tip. A root-end filling is placed to prevent reinfection of the root and the gum is sutured. The bone naturally heals around the root over a period of months restoring full function.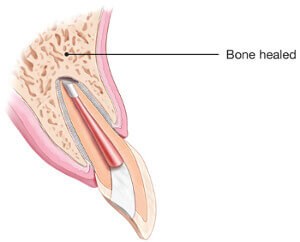 Following the procedure, there may be some discomfort or slight swelling while the incision heals. This is normal for any surgical procedure. To alleviate any discomfort, an appropriate pain medication will be recommended. If you have pain that does not respond to medication, please call our office.