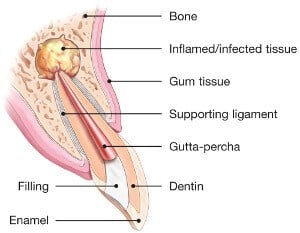 Generally, a root canal is all that is needed to save teeth with injured pulp from extraction. Occasionally, this non-surgical procedure will not be sufficient to heal the tooth and Dr. Rafla will recommend surgery. Endodontic surgery can be used to locate fractures or hidden canals that do not appear on x-rays but still manifest pain in the tooth. Damaged root surfaces or the surrounding bone may also be treated with this procedure. The most common surgery used to save damaged teeth is an apicoectomy or root-end resection.
Reviews
"Root canal was fine but now no one answered the office phone? Tried to call many times is she still in business?"
- D.S. /
Yelp /
Sep 03, 2021
"The doctor who saw me was great. Her assistant was excellent and they made the experience less traumatic than the crown procedure I had somewhere else that sent me there for a root canal in the first place. The only reason I took a star off is because when I called a few days later to ask something the receptionist was not helpful. I simply told her that I wanted to know what the doctor thought about my primary dentist seeing me 7 weeks after the root canal to permanently close it and I wanted to know if the doctor thought it was too long and if I needed to see someone else sooner than 7 weeks. "Look, all we say is that you have to see someone between 4-6 weeks after," that's all the receptionist said. And, she went on to repeat that. I was never told that specifically by anyone and I just wanted to know of whatever is on my tooth would hold until then. So, she repeated it once more. I kinda lost my patience and said thank you and hung up. I mean, can you write down what I said and simply ask the dentist and give me a call back? I would 100% go back there for treatment because the people who treated me were professionals, but this call was not great."
- A.M. /
Google /
Aug 27, 2021
"Excellent care from reception to prep all the way through the root canal procedure. Dr. Basseghi was just excellent. I was miserable for a few weeks waiting for my tooth to settle before deciding to go for a root canal treatment. They got me in quickly and 1 hour later I was very happy again!"
- J.M. /
Google /
Aug 19, 2021
"Very friendly staff and a very thorough exam. I felt comfortable from the time I walked in the door until I left."
- K.A. /
Google /
Jun 30, 2021
"Ultimate service. Called to inform me they were running 10-15 late. Very professional and very concerned with my well being. Called the next morning to see if I was okay. Highly recommend."
- R.P. /
Google /
Jun 04, 2021
Previous
Next
An incision is made in the gum tissue to expose the bone and surrounding inflamed tissue. The damaged tissue is removed along with the end of the root tip. A root-end filling is placed to prevent reinfection of the root and the gum is sutured. The bone naturally heals around the root over a period of months restoring full function.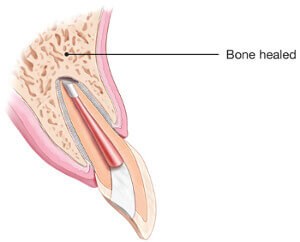 Following the procedure, there may be some discomfort or slight swelling while the incision heals. This is normal for any surgical procedure. To alleviate any discomfort, an appropriate pain medication will be recommended. If you have pain that does not respond to medication, please call our office.