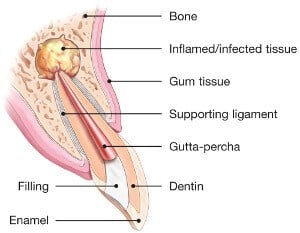 Generally, a root canal is all that is needed to save teeth with injured pulp from extraction. Occasionally, this non-surgical procedure will not be sufficient to heal the tooth and Dr. Rafla will recommend surgery. Endodontic surgery can be used to locate fractures or hidden canals that do not appear on x-rays but still manifest pain in the tooth. Damaged root surfaces or the surrounding bone may also be treated with this procedure. The most common surgery used to save damaged teeth is an apicoectomy or root-end resection.
Reviews
"Convenient location; extremely clean, meticulous offices/exam rooms; staff very friendly, accommodating yet professional; advanced equipment; office practices social distancing."
- L.M. /
Google /
Feb 24, 2021
"Excellent care. Very pleased"
- A.L. /
Google /
Feb 23, 2021
"Everybody was very pleasant and professional."
- F.E. /
Google /
Feb 17, 2021
"After several endodontists told me that they would not be able to perform a root canal on my front tooth due to calcification of the root, I went to Dr. Rafla. Dr. Rafla used the Cone Beam x-ray to determine that there was a very small root canal left and she accepted me as a patient. Dr. Rafla was not only able to find my canal, a feat which seemed near impossible, she did it without any pain and in under an hour. I could not be more thrilled with the results. Thank you to Dr. Rafla for a job well done!"
- A.D. /
Google /
Jan 29, 2021
"I felt very comfortable and everyone in the office was super nice!"
- C.R. /
Google /
Jan 27, 2021
Previous
Next
An incision is made in the gum tissue to expose the bone and surrounding inflamed tissue. The damaged tissue is removed along with the end of the root tip. A root-end filling is placed to prevent reinfection of the root and the gum is sutured. The bone naturally heals around the root over a period of months restoring full function.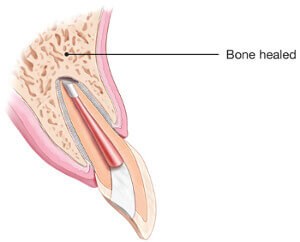 Following the procedure, there may be some discomfort or slight swelling while the incision heals. This is normal for any surgical procedure. To alleviate any discomfort, an appropriate pain medication will be recommended. If you have pain that does not respond to medication, please call our office.