With the appropriate care, your teeth that have had endodontic treatment will last as long as other natural teeth. Yet, a tooth that has received treatment may fail to heal or pain may continue to exist. Sometimes, the pain may occur months or years after treatment. If so, Dr. Rafla may need to perform Endodontic Retreatment.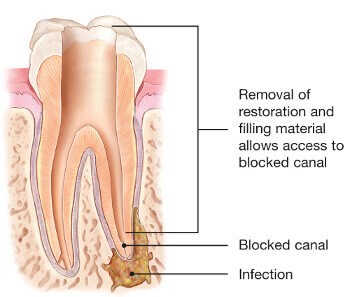 Improper healing may be caused by:
Curved or narrow canals that were not treated during the initial treatment.
Complicated canals that went undetected during the initial treatment.
The crown or restoration was not placed within the appropriate amount of time following the procedure.
The crown or restoration that did not prevent saliva from contaminating the inside of the tooth.
In some cases, new problems can influence a tooth that was successfully treated:
New decay can expose a root canal filling material, causing infection.
A cracked or loose filling or crown can expose the tooth to new infection.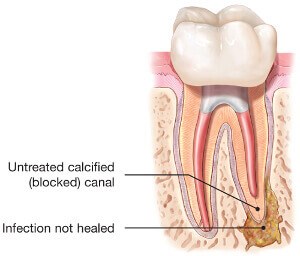 Once retreatment has been selected as a solution to your problem, the doctors will reopen your tooth to gain access to the root canal filling material. This restorative material will be removed to enable access to the root canal. The doctors will now clean your canals and carefully examine the inside of the problematic tooth. Once cleaned, the doctors will fill and seal the canals and place a temporary filling in the tooth.
At this point, you will need to return to your dentist as soon as possible in order to have a new crown or restoration placed on the tooth to restore full functionality.
Reviews
"Convenient location; extremely clean, meticulous offices/exam rooms; staff very friendly, accommodating yet professional; advanced equipment; office practices social distancing."
- L.M. /
Google /
Feb 24, 2021
"Excellent care. Very pleased"
- A.L. /
Google /
Feb 23, 2021
"Everybody was very pleasant and professional."
- F.E. /
Google /
Feb 17, 2021
"After several endodontists told me that they would not be able to perform a root canal on my front tooth due to calcification of the root, I went to Dr. Rafla. Dr. Rafla used the Cone Beam x-ray to determine that there was a very small root canal left and she accepted me as a patient. Dr. Rafla was not only able to find my canal, a feat which seemed near impossible, she did it without any pain and in under an hour. I could not be more thrilled with the results. Thank you to Dr. Rafla for a job well done!"
- A.D. /
Google /
Jan 29, 2021
"I felt very comfortable and everyone in the office was super nice!"
- C.R. /
Google /
Jan 27, 2021
Previous
Next