With the appropriate care, your teeth that have had endodontic treatment will last as long as other natural teeth. Yet, a tooth that has received treatment may fail to heal or pain may continue to exist. Sometimes, the pain may occur months or years after treatment. If so, Dr. Rafla may need to perform Endodontic Retreatment.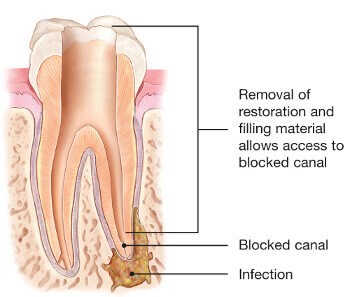 Improper healing may be caused by:
Curved or narrow canals that were not treated during the initial treatment.
Complicated canals that went undetected during the initial treatment.
The crown or restoration was not placed within the appropriate amount of time following the procedure.
The crown or restoration that did not prevent saliva from contaminating the inside of the tooth.
In some cases, new problems can influence a tooth that was successfully treated:
New decay can expose a root canal filling material, causing infection.
A cracked or loose filling or crown can expose the tooth to new infection.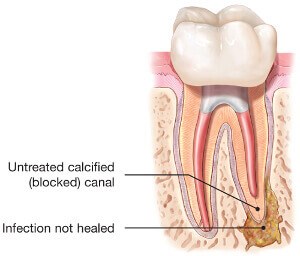 Once retreatment has been selected as a solution to your problem, the doctors will reopen your tooth to gain access to the root canal filling material. This restorative material will be removed to enable access to the root canal. The doctors will now clean your canals and carefully examine the inside of the problematic tooth. Once cleaned, the doctors will fill and seal the canals and place a temporary filling in the tooth.
At this point, you will need to return to your dentist as soon as possible in order to have a new crown or restoration placed on the tooth to restore full functionality.
Reviews
"I am petrified of dentists and was extremely anxious heading into my appointment. The staff was amazingly friendly and eased my nerves. Even the Dr kept asking if I was ok throughout the procedure."
- T.D. /
Google /
Jun 29, 2020
"I've been there twice and I love this office. The girls there make a tough procedure painless, almost enjoyable. Dr. Yasmin Basseghi was knowledgeable, gentle and caring. If the need arises I will go back there."
- W.C. /
Google /
Feb 18, 2020
"I never give 5 stars but was pleased with care I received."
- B.D. /
Google /
Jan 30, 2020
"Very friendly staff great service great place for getting a root canal"
- M.S. /
Google /
Jan 25, 2020
"Had the unfortunate experience of developing an abscess in a tooth that was recently crowned. I happened to be traveling abroad at the time. The team at Endodontic Associates welcomed me upon my urgent return on a 16 hour plane flight, immediately began work to provide much needed relief from an infection that had developed. They finished the root canal a few days later once things settled down. Top-notch care from a compassionate and knowledgeable team. Extremely grateful and appreciative of Endodontic Associates professional care."
- M.D. /
Google /
Oct 18, 2019
Previous
Next