With the appropriate care, your teeth that have had endodontic treatment will last as long as other natural teeth. Yet, a tooth that has received treatment may fail to heal or pain may continue to exist. Sometimes, the pain may occur months or years after treatment. If so, Dr. Rafla may need to perform Endodontic Retreatment.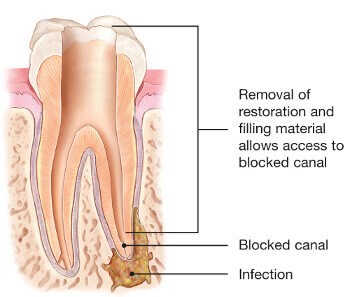 Improper healing may be caused by:
Curved or narrow canals that were not treated during the initial treatment.
Complicated canals that went undetected during the initial treatment.
The crown or restoration was not placed within the appropriate amount of time following the procedure.
The crown or restoration that did not prevent saliva from contaminating the inside of the tooth.
In some cases, new problems can influence a tooth that was successfully treated:
New decay can expose a root canal filling material, causing infection.
A cracked or loose filling or crown can expose the tooth to new infection.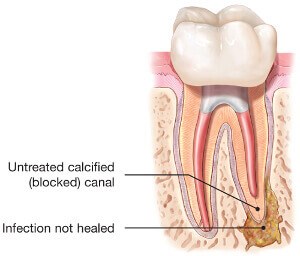 Once retreatment has been selected as a solution to your problem, the doctors will reopen your tooth to gain access to the root canal filling material. This restorative material will be removed to enable access to the root canal. The doctors will now clean your canals and carefully examine the inside of the problematic tooth. Once cleaned, the doctors will fill and seal the canals and place a temporary filling in the tooth.
At this point, you will need to return to your dentist as soon as possible in order to have a new crown or restoration placed on the tooth to restore full functionality.
Reviews
"Dr. Basseghi performed a root canal I needed. She is professional and highly skilled. She explains the procedure and shows you the X-ray so you have a clear understanding. My root canal was painless, I highly recommend Dr. Basseghi. The entire staff is a pleasure to work with."
- J.J. /
Google /
Aug 03, 2023
"Dr. BASSEGHI is the sweetest doctor. She has fantastic bedside manner. She is knowledgeable and also understands people have busy schedules and works with you to accommodate as best she can. I will ALWAYS go to Dr. Basseghi for any of the specialty needs. Thank you so much for making me feel comfortable 100% of the time while I was there!"
- J.D. /
Google /
Jun 21, 2023
"I called for an emergency root canal. I love out of state and they got me in the next day and then called me back with a cancel to see if I wanted to come in sooner. From the time I walked in the door I was greeted and treated so nice. The staff are very friendly and helpful. Dr Yasmine Basseghi was so sweet and checked on me throughout my procedure making certain I was comfortable. All the staff are nice and friendly. I highly recommend this office!"
- B.E. /
Yelp /
May 10, 2023
"I highly recommend Endodontic Associates. Even before I walked in the door Dr Yasmin Basseghi said hello to me. I didn't know she was the doctor who would be doing my root canal but it put me at ease. All the staff are great! Dr Yasmin Basseghi is an excellent Dr. I have had a lot of dental work done and I could tell she is one of the best. No pain during or after my root canal."
- R.M. /
Google /
Dec 08, 2022
"Fantastic experience here! No pain during my procedure. Respectful, skilled, and informative staff. Great attitudes and a clean and calm facility. Very pleased 🙂"
- Q.K. /
Google /
May 04, 2022
Previous
Next