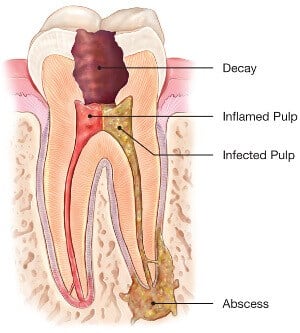 A root canal is one of the most common dental procedures performed, well over 14 million every year. This simple treatment can save your natural teeth and prevent the need of dental implants or bridges.
At the center of your tooth is pulp which is a connective tissue that contains blood vessels and nerves. The pulp forms the surrounding hard tissues during development but once the tooth is formed, the tooth can survive without the pulp
Endodontic treatment is necessary when the pulp becomes inflamed or infected. This can be caused by trauma to the tooth, deep decay, cracks and chips, or repeated dental procedures. Symptoms of pulp disease include increased sensitivity to temperatures, pain in the tooth and gums or swelling. In some cases there are no symptoms.
Root Canal Reviews
"Root Canales aren't like in the 70' anymore! Stop been afraid"
- M.S. /
Google /
Feb 11, 2022
"The doctor who saw me was great. Her assistant was excellent and they made the experience less traumatic than the crown procedure I had somewhere else that sent me there for a root canal in the first place. The only reason I took a star off is because when I called a few days later to ask something the receptionist was not helpful. I simply told her that I wanted to know what the doctor thought about my primary dentist seeing me 7 weeks after the root canal to permanently close it and I wanted to know if the doctor thought it was too long and if I needed to see someone else sooner than 7 weeks. "Look, all we say is that you have to see someone between 4-6 weeks after," that's all the receptionist said. And, she went on to repeat that. I was never told that specifically by anyone and I just wanted to know of whatever is on my tooth would hold until then. So, she repeated it once more. I kinda lost my patience and said thank you and hung up. I mean, can you write down what I said and simply ask the dentist and give me a call back? I would 100% go back there for treatment because the people who treated me were professionals, but this call was not great."
- A.M. /
Google /
Sep 19, 2021
"I highly recommend Endodontic Associates. Even before I walked in the door Dr Yasmin Basseghi said hello to me. I didn't know she was the doctor who would be doing my root canal but it put me at ease. All the staff are great! Dr Yasmin Basseghi is an excellent Dr. I have had a lot of dental work done and I could tell she is one of the best. No pain during or after my root canal."
- R.M. /
Google /
Dec 08, 2022
"I called for an emergency root canal. I love out of state and they got me in the next day and then called me back with a cancel to see if I wanted to come in sooner. From the time I walked in the door I was greeted and treated so nice. The staff are very friendly and helpful. Dr Yasmine Basseghi was so sweet and checked on me throughout my procedure making certain I was comfortable. All the staff are nice and friendly. I highly recommend this office!"
- B.E. /
Yelp /
May 10, 2023
"Dr. Basseghi performed a root canal I needed. She is professional and highly skilled. She explains the procedure and shows you the X-ray so you have a clear understanding. My root canal was painless, I highly recommend Dr. Basseghi. The entire staff is a pleasure to work with."
- J.J. /
Google /
Aug 03, 2023
Previous
Next
How is a root canal performed?
If you experience any of these symptoms, your dentist will most likely recommend non-surgical treatment to eliminate the diseased pulp. This injured pulp is removed and the root canal system is thoroughly cleaned and sealed. Root canal therapy usually involves local anesthesia and may be completed in one or more visits depending on the treatment required. Success for this type of treatment occurs in about 90% of cases. If your tooth is not amenable to endodontic treatment or the chance of success is unfavorable, you will be informed at the time of consultation or when a complication becomes evident during or after treatment. Dr. Rafla uses local anesthesia to eliminate discomfort. In addition, we will provide nitrous oxide analgesia, if indicated. You will be able to drive home after your treatment, and you probably will be comfortable returning to your normal routine.
What happens after treatment?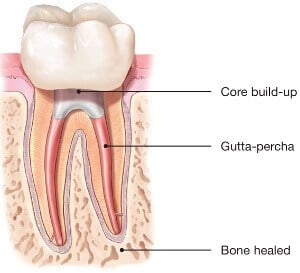 When your root canal therapy has been completed, a record of your treatment will be sent to your restorative dentist. You should contact their office for a follow-up restoration within a few weeks of completion at our office. Your restorative dentist will decide on what type of restoration is necessary to protect your tooth. It is rare for endodontic patients to experience complications after routine endodontic treatment or microsurgery. If a problem does occur, however, we are always available.
How much is a root canal?
The cost associated with root canals can vary depending on factors such as the severity of damage to the affected tooth and which tooth is affected. In general, endodontic treatment is much less expensive than tooth removal and replacement with an artificial tooth.