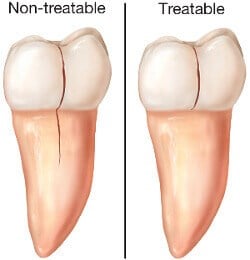 Cracked teeth demonstrate many types of symptoms, including pain when chewing, temperature sensitivities, or even the release of biting pressure. It is also common for tooth pain to come and go, making it difficult to diagnose the cause of discomfort.
Chewing can cause movement of the cracked pieces of your tooth, and the pulp within the tooth becomes irritated. At the same time, when biting pressure is released, the crack can close quickly, resulting in sharp pain. Eventually, the pulp will become damaged and tooth will consistently hurt, even when you are not chewing. It is possible that cracks can lead to infection of the pulp tissue, which can spread to the bone and gum surrounding the problematic tooth.
Reviews
"Root canal was fine but now no one answered the office phone? Tried to call many times is she still in business?"
- D.S. /
Yelp /
Sep 03, 2021
"The doctor who saw me was great. Her assistant was excellent and they made the experience less traumatic than the crown procedure I had somewhere else that sent me there for a root canal in the first place. The only reason I took a star off is because when I called a few days later to ask something the receptionist was not helpful. I simply told her that I wanted to know what the doctor thought about my primary dentist seeing me 7 weeks after the root canal to permanently close it and I wanted to know if the doctor thought it was too long and if I needed to see someone else sooner than 7 weeks. "Look, all we say is that you have to see someone between 4-6 weeks after," that's all the receptionist said. And, she went on to repeat that. I was never told that specifically by anyone and I just wanted to know of whatever is on my tooth would hold until then. So, she repeated it once more. I kinda lost my patience and said thank you and hung up. I mean, can you write down what I said and simply ask the dentist and give me a call back? I would 100% go back there for treatment because the people who treated me were professionals, but this call was not great."
- A.M. /
Google /
Aug 27, 2021
"Excellent care from reception to prep all the way through the root canal procedure. Dr. Basseghi was just excellent. I was miserable for a few weeks waiting for my tooth to settle before deciding to go for a root canal treatment. They got me in quickly and 1 hour later I was very happy again!"
- J.M. /
Google /
Aug 19, 2021
"Very friendly staff and a very thorough exam. I felt comfortable from the time I walked in the door until I left."
- K.A. /
Google /
Jun 30, 2021
"Ultimate service. Called to inform me they were running 10-15 late. Very professional and very concerned with my well being. Called the next morning to see if I was okay. Highly recommend."
- R.P. /
Google /
Jun 04, 2021
Previous
Next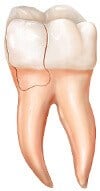 Craze lines
These are tiny cracks that only affect the outer enamel of the tooth. These cracks are more common in adults. These types of cracks are superficial and are usually of no concern.
Fractured Cusp
When a cusp becomes weakened, a fracture may result. The cusp may break off or be removed by a dentist. A fractured cusp rarely damages the pulp, so root canal is not necessary. Your dentist will usually restore the tooth with a full crown.
Treatable Cracked Tooth
This type of crack extends from the chewing surface of the tooth and vertically migrates towards the root. In some cases, the crack may extend below the gum line. It is possible for the crack to extend further into the root. Damage to the pulp is commonplace. In this case, root canal treatment is usually necessary. A cracked tooth that is not treated will worsen, resulting in the loss of the tooth. Therefore, early detection is essential.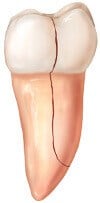 Split Tooth
A split tooth is usually the result of an untreated cracked tooth. It can be identified by a crack with distinct segments. This type of tooth can never be saved intact. Yet, the position and extent of the problem will dictate whether any portion of the tooth can be saved. Sometimes, endodontic retreatment by the doctors and restoration by your dentist can be used to save a portion of the tooth.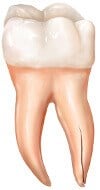 Vertical Root Fracture
A vertical root fracture begins at the root and extends towards the chewing surface of the tooth. Unfortunately, they show minimal symptoms and may go unnoticed. Treatment involves endodontic surgery if a portion of the tooth can be saved by removal of the fractured root. Otherwise, the tooth will have to be extracted.